Following the introduction of Oatly Shake and Vegan As-Is Espresso in the spring, 2021 marks the inaugural year of Starbucks' first holiday vegan drink, Sugar Cookie Almondmilk Latte. The winter drink joins the range of holiday promotions such as Gingerbread Latte, Chestnut Praline Latte and Peppermint Moka, all vegan with some modifications. We hope this new cookie-inspired drink will last, unlike Christmas Past's underrated, short-lived Holiday Spice drink. When you crave something cheerful in the form of a sugary, caffeinated drink, here are all of the vegan variations of Starbucks holiday drinks.
Starbucks
1 Almond milk latte sugar cookie
Launched in early November, this new blend of caffeine and sweeteners was presented as a frozen drink. As the temperatures drop, more and more customers are opting for the hot version. When served hot, the drink is made with Starbucks signature blond espresso, steamed almond milk, sugar cookie flavored syrup and topped with red and green sprinkles. Based on this description it looks disgustingly sweet, but the unsweetened almond milk balances it out quite well.
Bartender's tip: Ask for a long shot of espresso or even a full extra shot if you prefer a stronger coffee taste with just a hint of holiday flavor.
2 Peppermint mocha (or hot chocolate)
There is nothing more comfortable than strolling around looking at the Christmas lights with a Starbucks peppermint mocha or hot chocolate in your hand. The mocha sauce is vegan, so all you have to do is remove the whisk and swap the cow's milk for soy, oats, almonds or coconut … and pay the extra for non-dairy milk (womp, womp).
Bartender's tip: The drink is made with mocha and peppermint syrups, which makes it very sweet. Since Starbucks soy milk is also very sweet, opt for almond or oat milk.
3
Flavored mocha (or hot chocolate)
Prepare a basic caffeinated hot chocolate (that's what a mocha is) with the flavors of the season. Ask for a mocha (insert your favorite non-dairy milk here) with hazelnut syrup, cinnamon dolce, caramel or caramel and hold the whisk. If you're wondering, caramel syrup is vegan but caramel drizzle isn't. We are also baffled.
Bartender's tip: Avoid dark chocolate mocha: it's made from ground chocolate that contains dairy products.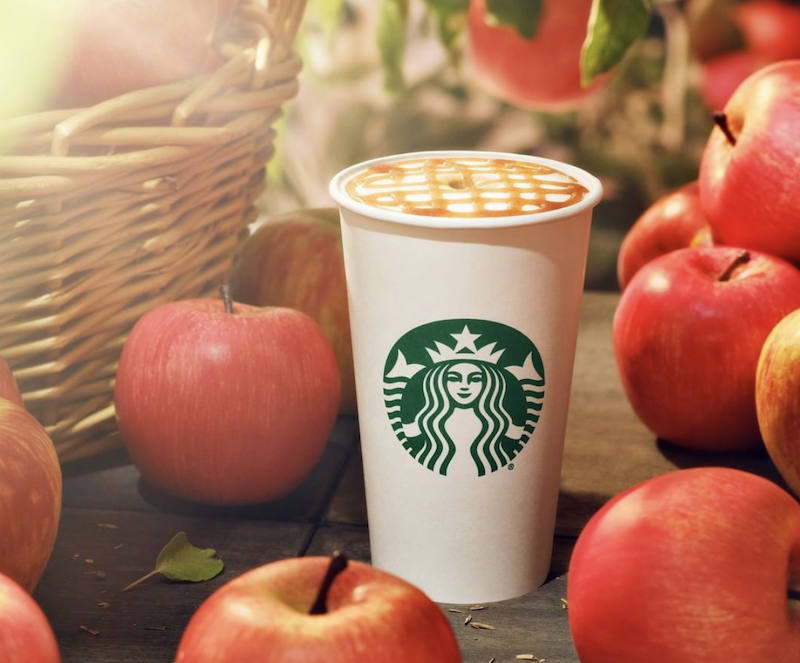 Starbucks
4
Crispy Apple Macchiato
Introduced in the Fall 2021 range, this orchard-themed drink is still available for the holiday season. Served hot or frozen, the drink is made with your choice of non-dairy milk, brown sugar apple syrup, espresso and a vegan spicy apple fillet hash hatch.
Bartender's tip: Starbucks' definition of a macchiato is not an accurate representation of a traditional macchiato, which is a very strong drink made mostly of espresso and a little steamed milk. Buyer, beware: Apple Crisp 'Macchiato' is far from his avant-garde muse for espresso.
5
Cinnamon Dolce Latte
This item never leaves the menu, but the warm cinnamon spices invite cheerfulness. Easily turn this drink into a vegan option by swapping out your favorite non-dairy milk and asking for no whipped cream or cinnamon topping (it contains dairy).
Bartender's tip: Are you having a hot day in December? Order iced or as a mixed Frappuccino, hold the whisk.
6
Hazelnut latte
This drink is all about the personalization. Order a regular latte with your choice of non-dairy milk, then ask for hazelnut syrup. The standard is three push-ups for a tall one, but if you prefer a lift that's not so gentle, just ask for two push-ups.
Bartender's tip: Don't confuse this with Starbucks Reserve Hazelnut Bianco Latte – it can't be vegetated no matter how hard you try.
seven
Caramel nut latte
Like Cinnamon Dolce Latte, this flavor is available year-round, but Starbucks only promotes it when the leaves start to fall. It is a unique drink with a caramelized and nutty flavor that is sure to put a smile on your face. To vegetate it, skip the whisk and say no to caramel chips, which contain dairy products.
Bartender's tip: Opt for oats or soy here – the creaminess of these plant milks really enhances this drink.
Starbucks
8 Butter beer latte
Brought to you by our VegNews resident Starbucks barista, also known as Editor-in-Chief Richard Bowie, here's how you can make your way to Hogwarts: Order a large soy latte with a pump each of caramel, caramel nut and cinnamon dolce syrup plus extra foam and sea salt garnish. The result is a delicious potion that even Snape would award points for.
Bartender's tip: This drink is best served hot. If you want a frozen drink, save the butter beer for another time.
9 London Fog Nutmeg Milk Tea
Outsmart your typical milk tea by asking your barista to garnish your drink with a pinch of nutmeg. The hot spice will bring out the vanilla flavors of this blended drink and add a layer of warm haze to your morning.
Bartender's tip: It's really exceptional with oat milk.
ten Peppermint matcha tea latte
This winter drink isn't on the menu per se, but you can definitely hack it. Ask for a large dairy-free matcha tea latte with a pump of peppermint syrup. When you need a break from the cinnamon and spice, this drink will reset your palate while providing all the warm blurs of a Starbucks holiday drink.
Barista tip: Starbucks matcha powder contains a sweetener, which makes it less earthy and more palatable for self-declared matcha haters.
11 Cold Irish cream infusion
We know that many people prefer iced coffee, even in the dead of winter. For you, we offer the Irish Cream Cold Brew. The cool drink is made with mild cold brew coffee sweetened with Irish cream syrup and poured over ice. It's topped with Irish Cream Cold Foam (which isn't vegan – ask for non-dairy milk instead) and a dusting of sweet cocoa powder. Sláinte!
Barista tip: For a more grown-up drink, order an unsweetened cold brew at Starbucks and add a sprinkle of Baileys Almande for delicious Irish coffee on a festive winter evening.
For more vegan Starbucks, read:
Everything you need to know to order vegan at Starbucks
Starbucks' first-ever vegan holiday drink is inspired by cookies
10 mouth-watering vegan Frappuccinos at Starbucks