The lede of this review looked different when I started writing the article on Monday afternoon. I was going to write about how Event was a small movie that could, one that beat out Oscar-nominated giants like The power of the dog for the top prize at the Venice Film Festival last year. Then, on Monday evening, Politico revealed that the Supreme Court had decided to strike down Roe vs. Wade in a leaked ruling written by Judge Samuel Alito. The decision would return the right to abortion to the states, meaning that in many places in the United States the act would be completely banned.
Suddenly, writing about a movie about what it looks like when abortion is criminalized took on a whole new meaning. This weekend, in certain rooms, you will be able to see Event, a film by Audrey Diwan. It's an unflinching look at a young woman's attempt to have an abortion in 1960s France, when the likely outcome was either death from a botched procedure or prison if caught. Diwan is bravely unsentimental in her telling of the story, and she coldly refuses to look the other way when her heroine's body is pushed to the limit for something that should be a right.
Based on a novel by Annie Ernaux, Event centers on Anne, played with searing intensity by Anamaria Vartolomei, a driven student studying literature. When she learns that she is pregnant, she sees her future fly away and decides to have an abortion despite the draconian laws in force. She searches for a way to abort with the same vibrant tenor she once studied with. Her quest becomes her sole focus, her dreams of an independent life fading away in more ways than one as the academics she once excelled in slip away from her. Vartolomei's wide, piercing blue eyes convey that resolve, whether she's addressing doctors urging her to remain silent or deliberately undermining her or sticking a needle into her body.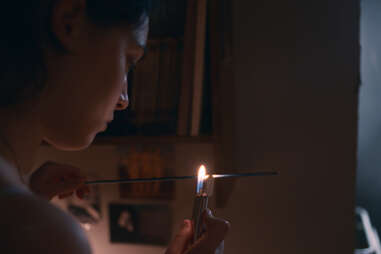 Aiming her camera almost entirely at Vartolomei, Diwan conveys the extent of the oppression at play. As the film progresses, you can feel the effects of the culture of silence on this woman. Her friends fearlessly talk about sex but dare not discuss what happens if you get pregnant as a result. When Anne finally finds an abortion provider, the woman orders her to remain entirely silent for fear of being discovered. Diwan films the entire procedure, and the audience witnesses it through Anne's own perspective. We see her legs twitch as the tools penetrate further up her womb, her body screams in pain but she stays as mute as possible.
But Event is set in the 1960s, Diwan keeps period signifiers to a minimum. Even fashions, while accurate, are muted: Anne's button-down shirts and A-line skirts could be worn today. It gives an immediacy to the action: Yes, it's in the past, but it could very well be the present.
Abortion is always a radical act to portray on screen, whether it's Penny getting an abortion in dirty dance or two girls coming to New York from rural Pennsylvania to seek legal care at Eliza Hittman's Never Rarely Sometimes Always. Starting this weekend, a series of abortion films curated by Emma Myers begins screening at the Metrograph in New York, as does Event hits various places. What Diwan and these other filmmakers have acknowledged is that the work to show how life-saving abortion is for women is endless.
Event is a heartbreaking glimpse into life in another time in a different country than the United States, but at the same time, it's a vision of what life will be like for countless American women in the near future. Donate to an abortion fund and see it this weekend or as it expands across the US next week.
Want more Thrillist? follow us on instagram, TwitterPinterest, YouTube, TikTok and Snapchat.
Esther Zuckerman is Senior Entertainment Writer at Thrillist. Follow her on Twitter @ezwrites.