Hello Shepparton,
Max Stainkamph with you on this glorious Thursday to catch up on what's happening on the GV today.
We are heading for a sunny high of 32 degrees today.
UPDATE, 5:00 p.m.:
The Push brings a hit lineup of live music to Shepparton with the All-Ages Tour back on the road.
Now part of Shepparton Music Week, Victoria Park Lake is sure to pump for the March 11 event.
Headlining acclaimed neo-soul singer Kaiit and singer-songwriter KIAN, the event will spotlight local additions from Aprilis, Vince the Kid and MistyKid and after two years without live music, I chomping at the bit to fill my ears with songs.
Check out Caitlyn Grant's full summary here, as I wrap up the blog for the day. We'll catch you tomorrow!
UPDATE, 3:30 p.m.: Help needed in the face of the land "crisis"
Darren Linton has a council meeting this week, with councilors acknowledging the town is in a "crisis" over land.
Councilors in Greater Shepparton have acknowledged a crisis in the supply of residential and industrial land and have asked the council's chief executive, Peter Harriott, to contact the Victorian government for help.
Read the full story and find out what it means for the city in Darren's wrap here.
UPDATE, 2:25 p.m.: Novavax receives approval from Doctor Seymour
Seymour's doctor and United Australia Party candidate Robert Peterson endorsed the Novavax vaccine.
He is still mobilizing against vaccine mandates ahead of the UAP's launch next week, where the party will publicly announce its policies.
"The fact that Novavax doesn't use the gene therapy technique and doesn't have messenger RNA is its biggest tick," Dr. Peterson said.
"Overall, when you compare it to messenger RNA vaccines, it's definitely a much safer option."
Read this story here, while earlier this week we had opinion columns from Nicholls candidates Rob Priestly and Sam Birrell, while Steve Brooks also had a chat with puppies (and voters) and wrote to this subject here.
UPDATE, 2:00 p.m.: As you were
I heard Georgia Rossiter on the ground and other than a few police cars telling people to slow down, there is no sign of firefighters on the ground.
They're either deep in the brush (and our work cars would have a hard time crossing there, bless their souls), but according to Georgia, it's all cleared up now and it was a good way back into the bush.
Play on.
Additionally, GV Health said there was virtually no wait time at the McIntosh Center. If someone wants to drop by for an encore or a knock, you'll be in and out in about 20 minutes.
UPDATE 1:45 p.m.: Vehicles respond along the Midland Highway
Four vehicles are responding to a fire along the Midland Highway, and at this point the roadway is still open.
Three CFA vehicles and a Fire Rescue Victoria vehicle were at the scene, and a few other trucks turned around after being called.
If I crossed the Goulburn River in the next half I would probably head along Watt Rd just to be safe.
There is a second incident further down the scrubland to which the Ministry of Environment, Lands, Water and Planning is responding, but I'm not entirely sure if it is fire or other incident.
UPDATE, 1:30 p.m.: Fire on Midland Highway
A fire broke out on the Midland Hwy between Shepparton and Mooroopna.
Georgia Rossiter is set to leave and will have more information for us shortly.
UPDATE, 12.15pm: Second police officer taken to Melbourne after crash
A second police officer is now in hospital in Melbourne after a police vehicle was involved in a fatal accident in Strathmerton on Tuesday February 15.
Two officers, who are stationed in Cobram, were involved in a collision between their police vehicle and a van on Murray Valley Hwy at the intersection of Stokes Rd.
The driver of the other vehicle died at the scene and, while initially only one officer was airlifted to Melbourne, both are now at the Alfred.
Learn more about Monique Preston here.
UPDATE, 10.50 am: Update on schools, ventilation
Deputy Prime Minister and Minister for Education James Merlino is now talking about schools and COVID cases.
He said more than 21,000 cases of COVID-19 had been averted through rapid testing in schools and surveillance testing, and modeling indicated that 150,000 cases in the community would be averted if testing continued until at the end of the quarter.
As such, Mr Merlino said an additional 24 million RATs will be shipped to schools and early childhood settings,
He said that as summer comes out, natural ventilation in classrooms will be reduced, with 60,000 air purifiers to be sent to public schools by June 1.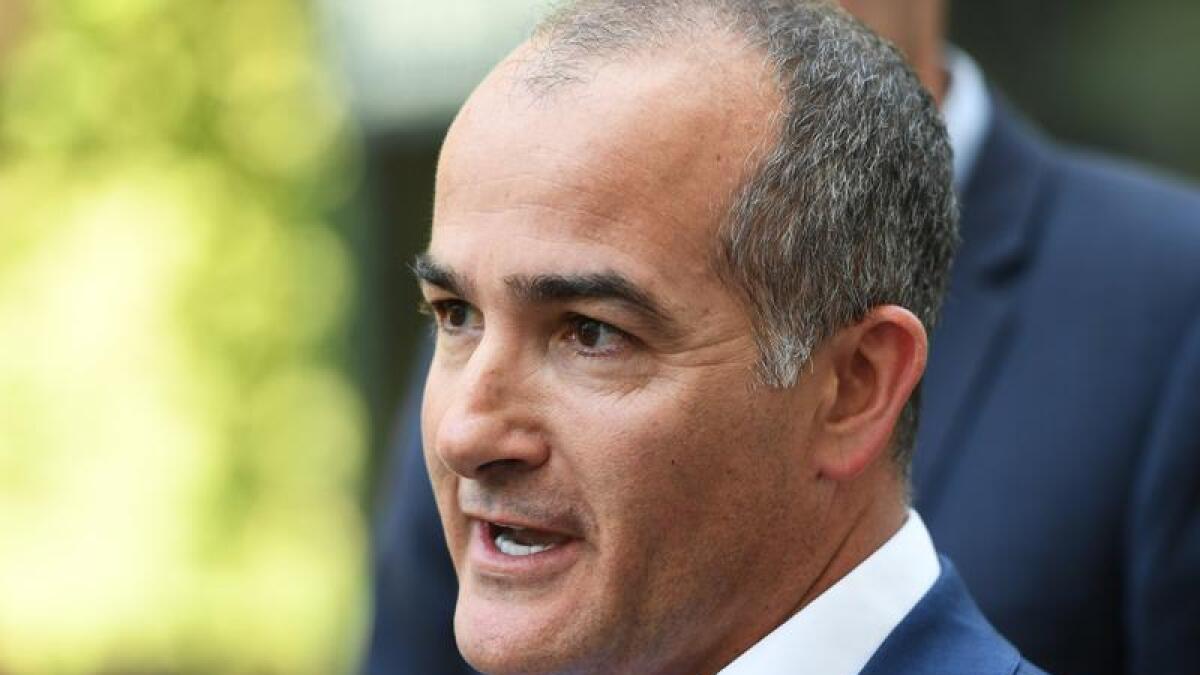 UPDATE, 10.45 a.m .: Masks to take away next week, perhaps?
Health Minister Martin Foley has said we will lift mask requirements in offices from next Friday.
He said he wanted to wait another week to ensure the Omicron wave continues to stabilize "while protecting our public health systems at all times."
UPDATE, 10:40 a.m.: The dancefloors are back, baby!
We got an update from the Premier of Victoria this morning on some of our few remaining restrictions.
Indoor density quotients, which used to be one person per two square meters, are gone, as are some QR codes, and much to the delight of my colleague Caitlyn Grant, dance floors are back.
It all starts at 6 p.m. tomorrow night, so go dust off your dancing shoes.
Indoor masks are still required, which means the dance floor at the Aussie or the Deck (or your locale of choice, other venues are available) will look really weird.
QR code check-ins will no longer be required at outlets, schools and employees at work. However, for places where you need to be fully vaccinated to enter – hospitality and entertainment places – you will still need to register.
UPDATE, 9:20 a.m.: Novavax available from GV Health
The Novavax vaccine is now available from GV Health for anyone age 18 and older for a first or second dose.
I know a small number of people were waiting for this particular vaccine before they got stung, and I hope this inspires more people to come forward and protect themselves against the coronavirus.
He is not available for callbacks and is available Tuesday evenings, by appointment only.
To make a reservation, call 1800 675 398 or visit coronavirus.vic.gov.au/vaccine.
UPDATE, 9:10 a.m.: closure of Shepparton Pathology, crossing work on Corio Street
The Shepparton pathology laboratory will close and operate from Melbourne following problems getting a pathologist to work in Shepp.
Pathology services will operate from the Austin Health campus in Heidelberg, in the eastern suburbs of Melbourne, from February 23.
It's another bite in the tail of the inability to attract medical professionals to Shepparton, and we'll have more on that on the Shepp News website in the next 24 hours.
Check out the full story on the pathology lab here.
On a more positive note, Corio St gets wombat crossing at the south end of the Fryers St roundabout.
This is not a passage for wombats (which was my first thought) but rather a passage for people, and construction will take place from February 28 to March 13.
Minor road closures and diversions will be in place during construction.